Angel Gurría, Co-Chair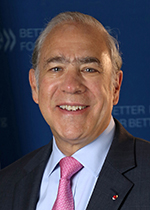 Secretary-General, OECD
Angel Gurría has been serving as OECD Secretary-General since June 2006, and the 35 Members of the Organisation decided to renew his mandate for the 2016-2021 period. During his time at the OECD, Mr. Gurría has reinforced the OECD's role as a "hub" for global dialogue and debate on economic policy issues while pursuing internal modernisation and reform.
A Mexican national who came to the OECD following a distinguished career in public service in his country, Mr. Gurría held positions as Minister of Foreign Affairs and Minister of Finance and Public Credit in the 1990s. He has participated in various international not-for-profit bodies, including the Population Council based in New York, and the Center for Global Development based in Washington.
Mr. Gurría holds a B.A. degree in Economics from UNAM (Mexico) and a M.A. degree in Economics from Leeds University (United Kingdom). He speaks Spanish, French, English, Portuguese, Italian and some German. He is married and has three children.