eNewsletters
The TIWB Secretariat publishes twice yearly a newsletter to update the public of its activities and programmes progress. These newsletters provide case studies on TIWB programmes, highlight UNDP Country Office involvement, describe recent activities, propose recommended reading and note recent press coverage of the initiative.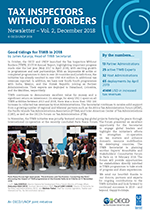 Read about TIWB's participation in the inaugural Paris Peace Forum held in November 2018, reflections by Her Excellency Ngozi Okonjo-Iweala (TIWB Governing Board member), a new pilot programme for tax criminal investigations, how TIWB is supporting Egypt's Vision 2030, small island developing states' reliance on the tourism industry, and new programmes and videos recently launched.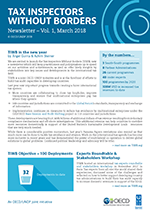 Read about the successful Experts Roundtable and Stakeholders Workshop held in November 2017, new members of the TIWB Governing Board, Tax Administration Jamaica's TIWB programme, UNDP Uganda's commitment to supporting tax audit capacity building and reflections by Bob Hamilton (TIWB Governing Board member).