Ekniti Nitithanprapas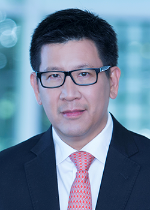 Dr. Ekniti Nitithanprapas has served as Director-General of the Revenue Department of Thailand since 2018, and has played a leading role in promoting the use of digital technologies and data analytics in the Thai tax administration. A recent launch of the world's first Blockchain-powered VAT Refund for Tourist in Thailand was one of his initiatives.
Prior to joining the Revenue Department, he was appointed by the Ministry of Finance of Thailand in various positions such as Director-General of the State Enterprise Policy Office, Deputy Director-General of the Fiscal Policy Office, Minister of Economic and Financial Affairs for U.K. and Europe in London, and Senior Advisor to Executive Director at the World Bank in Washington D.C.
Dr. Nitithanprapas obtained BA (Honors) degree in Economics from Thammasat University, Thailand, MS degree in Policy Economics from University of Illinois at Urbana-Champaign, and Ph.D. in Economics from Claremont Graduate University, USA.